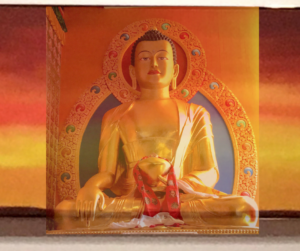 Shakyamuni Buddha Practice:
Chotrul Duchen is one of the four major Buddhist holidays.  It occurs on the full moon (the fifteenth day) of the first Tibetan month. At the time of Buddha Shakyamuni, the leaders of India's six main philosophical schools challenged him to a contest of miraculous powers.  The Buddha displayed a different miracle each day for fifteen days and, utterly defeating his opponents, inspired many individuals to follow the Dharma.
Sangye Khandro or Lama Chonam will teach on the meaning of this special day, then we will practice the Liturgy of the Buddha, called Treasury of Blessings, by Mipham Jamyang Gyats0.
Click here for more info. (Scroll down to "Text Info", then scroll down again for info on Wheel Day practices).