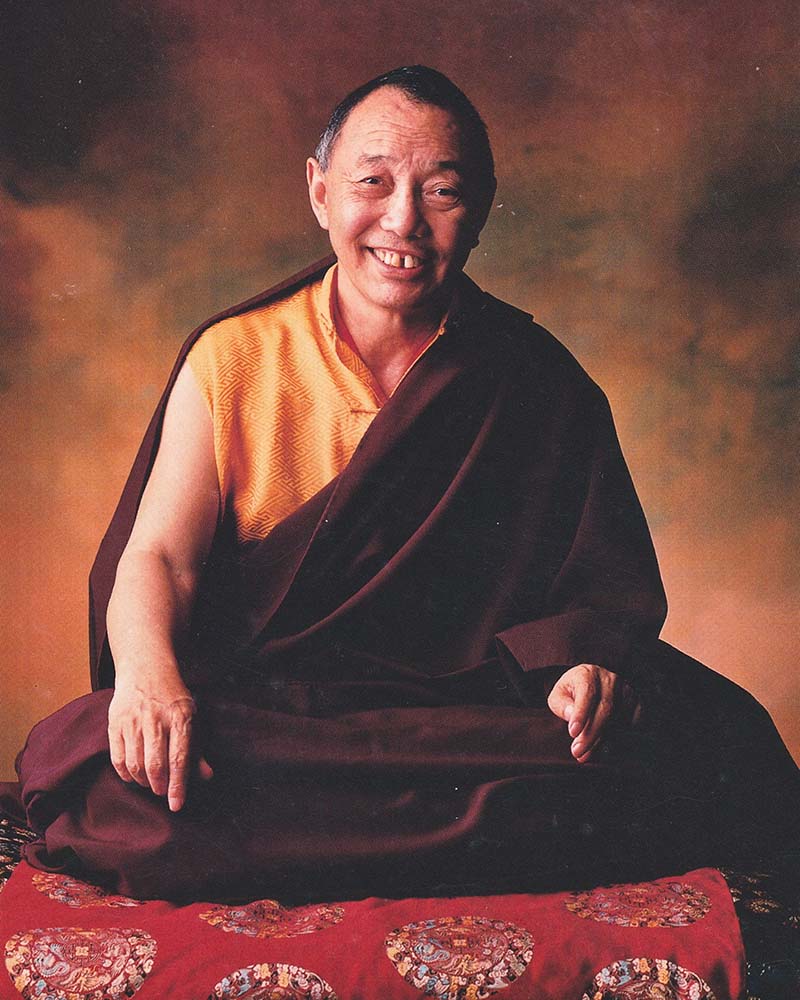 The Venerable Gyatrul Rinpoche
The Venerable Gyatrul Rinpoche (b. 1925) is a senior lama of the Palyul lineage of the Nyingma school of Tibetan Buddhism.
Born in the Gyalrong region of eastern Tibet in 1925, Gyatrul Rinpoche was recognized at a young age by Jamyang Khyentse Chökyi Lodrö and Tulku Natsok Rangdrol as the incarnation of Sampa Künkyap, a Payul lineage meditator who spent his life in retreat and who later gave empowerments and transmissions from his retreat cave to multitudes of disciples. After being brought to Palyul Domang Monastery, home of his previous incarnation, the young Gyatrul was educated by his tutor, Sangye Gon, and later was reinstated as Tulku of Dhomang Monastery.
According to Gyatrul Rinpoche[1]:
When I was a boy, I met my root guru, Tulku Natsok Rangdrol. He wanted me to learn to read and begin my dharma education, so he asked his uncle, Sangye Gön, to be my teacher. Tulku Natsok Rangdrol said, "Don't beat this boy. He might have trouble learning, but always be patient with him." I lived with Sangye Gön. He would get up very, very early, maybe 3:00 a.m., to do his practice, including many prostrations. I could hear the rumble of his recitations as I slept. Then he would wake me up and we would have breakfast, followed by my reading lessons. He was an amazing practitioner. He continuously kept the two-day nyungne fasting discipline. So on one day, he would eat and speak, and the next day he would fast and remain silent for most of the day. Avalokiteshvara was his main practice, and in his lifetime he recited millions of the Mani mantra. At the end of his life, he suddenly grew new teeth, and his grey hair was replaced by new black hair growing in. That kind of practitioner! He was always so loving, never yelling at me or beating me. If I made a mistake when reading, he would grunt, and then I knew I had gotten something wrong. But he was always very kind to me. He did one thing, though, that I hated. When he went to bed at night and when he rose in the morning, he would do 3 prostrations to me as I lay there in my bed. I really hated that; it made me so uncomfortable! I asked Tulku Natsok Rangdrol about it, but he said, "It doesn't matter. Let him do it. Pray to Guru Rinpoche and Vajrasattva."
During his extensive spiritual training, Gyatrul Rinpoche received personal instruction on many Buddhist treatises by numerous renowned masters of the Nyingma tradition, including Tulku Natsok Rangdrol, Payul Chogtrul Rinpoche, Apkong Khenpo, Dzongter Kunzang Nyima, and His Holiness Dudjom Rinpoche. In Tibet he received the oral transmission and instructions on the Shyitro Gongpa Rangdrol from the eminent Lama Norbu Tenzin.
In 1959, due to the Communist Chinese invasion of Tibet, Rinpoche embarked upon a harrowing escape and fled his homeland.  After an arduous and dangerous journey, he arrived in India where he lived  for twelve years. In 1972, he came to teach in America at the request of H.H. the Dalai Lama. In 1976, H.H. Dudjom Rinpoche appointed Gyatrul Rinpoche as his spiritual representative and Director of Pacific Region Yeshe Nyingpo.
Since then, he has taught widely throughout North America, establishing numerous Buddhist centers, which include Tashi Choling in Oregon, Orgyen Dorje Den in the San Francisco Bay area, Norbu Ling in Austin, Texas, Namdroling in Bozeman, Montana, and a center in Ensenada, Mexico. Currently, Gyatrul Rinpoche resides in Half Moon Bay, CA.
With his direct style, inimitable sense of humor and genuine humility, Ven. Gyatrul Rinpoche's teachings provide a bridge between our everyday experience and the direct insights of Vajrayana Buddhism.
Meditation, Transformation and Dream Yoga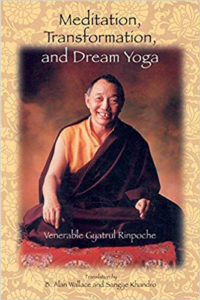 Three traditional Nyingma texts selected by Gyatrul Rinpoche because of their relevance to contemporary practitioners who must combine formal spiritual practice with work and sleep. Rinpoche's commentaries on these teachings are both practical and incisive.
Deity Generation

An invaluable guide for anyone who wishes to understand generation stage practice more fully, this commentary is based upon a well-known root text by the famous Tulku of Kathog, Tsewang Chogdrub, a great scholar who became famous for his explanations of kye rim or generation stage practice. Includes photographs of mudras and tormas.
Spacious Path To Freedom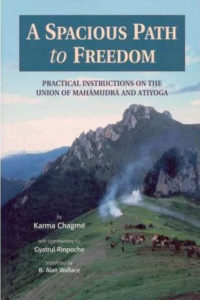 Practical Instructions on the Union of Mahamudra and Atiyoga by Karma Chagme, a 17th century Tibetan master, with commentary by Gyatrul Rinpoche.
Naked Awareness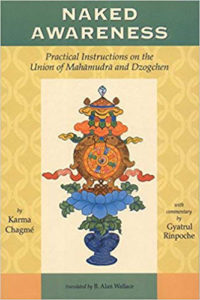 In this classic 17th-century presentation of the union of Mahamudra and Dzogchen, Karma Chagme begins with an overview of the spirit of awakening and the nature of actions and their ethical consequences. He then gives exceptionally lucid instructions on the two phases of Dzogchen practice followed by an accessible introduction to the practice of the transference of consciousness at the time of death. The concluding chapters present a detailed analysis of Mahamudra meditation in relation to Dzogchen practice.
Natural Liberation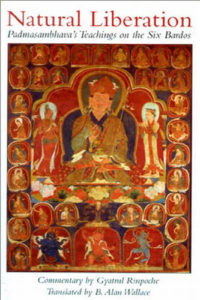 Padmasambhava's Teachings on the Six Bardos, rediscovered as a terma or mystical revelation by Karma Lingpa in the 14th century, and accompanied by a lucid commentary by Gyatrul Rinpoche. These are rare teachings on how to utilize each phase of experience, or bardo, as an opportunity for spiritual transformation.