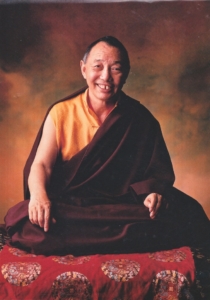 On this most sacred occasion of the parinirvana of our precious guru, Venerable Gyatrul Rinpoche, we invite all disciples, who are inexorably linked by our shared devotion and previous karmic connections, to gather together as one mandala.
Since the teachings indicate that, especially at this time, the guru's wisdom mind is all pervasive and available to those with faith, this is a very special occasion for all of us to gather merit, purify our minds and refresh our vows in his wisdom presence.
Remembering all of you, our dharma brothers and sisters worldwide, it is our fervent wish to see each and every one of you, here, in our gathering at Orgyen Dorje Den. And if you can't be here in person, we welcome you to join the wisdom mandala on Zoom as well.
April 23 – May 6: Ven. Lingtrul Rinpoche will join us, as will Namgyal Dawa Rinpoche, as our Vajra Masters. We will practice on our usual schedule, 9:00 am – 12:00 pm and 2:30 – 5:30 pm.
May 7 – 18: We will practice for half days during this period, from 2:30 – 5:30 pm daily. Ven. Lingtrul Rinpoche will join us, as he's able, as our Vajra Master through the end of the month. We will practice the Kunzang Nyima Vajrasattva, with teachings from 2:30-3:00 pm and practice from 3:00-5:30pm.
May 19 – 28: We will resume full practice days, returning to the Dorsem Lama Chopa Vajrasattva, 9:00 am – 12:00 pm and 2:30 – 5:30 pm.
Please click here for the Main Information Page and everything you need to know for these practices.